One the most fun things you can do at Brighton Mini Maker Faire is to get hands on with stuff at one of our workshops. Many of makers will be running drop-in workshops throughout the day where you can pop along and try your hand at soldering, origami, etching, felting and more. Just come along and have a go – no experience required!
We're also running some more substantial workshops at set times during the day which you need to book in advance. We'll be listing these workshops here as they are confirmed, so make sure you check back to see the latest.
Science Museum workshops for kids
We're very pleased to announce that the Science Museum are bringing their legendary roadshow to Brighton Mini Maker Faire. They'll be taking over part of the Dome to run hands-on worksops for young makers throughout the day. There are two workshops suitable for different ages, each running twice during the day. No experience or special skills required!
The workshops are free, but places are limited, so please register to reserve a place for you or your children.
Take a seat workshop, ages 14-16
The challenge: construct a chair strong enough to support your weight… from cardboard. No string. No glue. No tape. Just cardboard.
Morning session, 10.30-11.30am
Reserve a place now >
Afternoon session, 2-3pm
Reserve a place now >
Hot Air Balloons workshop, ages 7-11
Travel back to 18th Century France, and find out how the Montgolfier brothers and their farmyard friends flew into the history books. Discover the science behind hot air balloons… and then make one of your very own in this exciting workshop. How high will yours fly?
Morning session, 12-1pm
Reserve a place now >
Afternoon session, 4-5pm
Reserve a place now >
Get Your Code On – Beginners' coding workshop (suitable for ages 12+)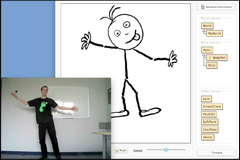 Ever wanted to try to make a computer game, but thought it was all too hard?  Or maybe you've seen some amazing creative work using programming, but thought it was too late to learn?  Well it is isn't (too hard OR too late)!
On Saturday morning at the Brighton Mini Maker Faire we'll be holding a workshop to introduce visitors to the creative computer programming using the fantastically accesible Greenfoot system.  Staff and teachers from Brighton's Dorothy Stringer school, and Eastbourne's Cavendish as well as the University of Kent will introduce visitors to programming using Greenfoot, and all attendees will be able to quickly rustle up their own programs.
10.45am – 12.15pm
Reserve a place now >
Technology Will Save Us
Technology Will Save Us is a haberdashery for technology and education dedicated to helping people to produce and not just consume technology.
For the first time especially for Brighton Mini Maker Faire, they are offering FREE WORKSHOPS with the purchase of the kits. Just pay for the kit and get the workshop for FREE!! Places are limited so sign up in advance here.
DIY Speakers (12-3pm, suitable for ages 10+)
Do you love sound? Have you ever wanted to know more about it?
Join us for a DIY Speaker workshop we will teach you how to solder an amplifier and then attach it to a pair of exciters which transform almost any material into a speaker. Work with our resident expert sound engineer. Learn the art of soldering, begin to understand the electronic components that make up most of the technology in our lives and make something audibly creative! This workshop includes all the components, tools and instruction you need to build your own speakers.
Thirsty Plant (3.30-5.00pm, suitable for ages 7+)
Make a Thirsty Plant Detector at Maker Faire. Do you want to treat your plants kindly? Be as good as you can be to them? Or at the very least water them when they're thirsty??? Wouldn't it be grand if they would turn a little light on to tell you when they were dry? If so, then join us for this DIY technology workshop!
We will make our own sensors from scratch and connect them to a solar powered circuit that turns an LED on when the poor plants are thirsty. You will do some very basic electronics and play with solar power while making something useful.
All the electronic components, sensors materials and instruction are included.
Willow workshops
Get creative with willow, tissue, tape and glue to create 3D structures from lampshades and hats, to bugs and butterflies.
Maia Eden will be running workshops all day using dried stripped willow, tape, wet strength tissue and diluted PVA to create all kinds of 3d structures.
Please note:
Under 10 year-olds must be accompanied by an adult
Part of the workshop involves working in pairs
Each workshop will last for one and a half hours
Workshop timings
No booking required – first come, first served.
10.30 – 12.00 – Bugs and Butterflies
13.00 – 14.30 – 'Mad Hatters'
15.30 – 17.00 – Weird and Wonderful lampshades